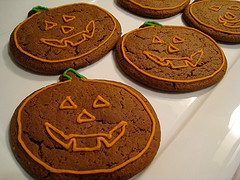 We found these two great recipes on www.squidoo.com and had to share it with you guys, enjoy.
Yummy, tasty, homemade Halloween dog treats!
Halloween is a great time to make some pawsome treats for your pups, whether it be for a party for one or hundreds.Read on to get some ideas to get cooking....And have a Happy Howl-o-ween!!!!
Pawsome pumpkins!
Ingredients:
1 cup oat flour 1/2 cup rolled oats 1/4 cup peanut butter, organic is best! 1 tsp baking powder 1 cup water
Directions: Preheat oven tp 325 degrees
. Combine dry ingredients into a large mixing bowl. Add the peanut butter and water. Mix the ingredients together until it forms a dough.
Then roll the dough into one quarter inch thickness. Cut into any fun
 Halloween shape, like pumpkins, witches, bats, or ghosts! Bake for 20 minutes on a greased baking sheet until lightly brown.
You can even whip up some yogurt icing, add a dab of food coloring and start decorating!
Sweet Potato Chews!
It's that time of year...time for sweet potatoes!
I love sweet potatoes, they are a super yummy and really good for me.
Sweet potato chews are a great alternative to the ever present rawhide chews, which contrary to pupular belief, really aren't good for dogs. They present a choking hazard, and they don't digest very easily and could become lodged in the intestines creating a dangerous health
 hazard. In addition, many rawhides are processed with chemicals which aren't good for dogs either.
Wash a sweet potato (organic is best and we like to peel them). Cut down the middle lengthwise. Then cut long lengthwise slices about 1/3 of an inch wide and place them in a single layer on a cookie sheet (use a stainless steel sheet, for healthier cooking).
Put in the oven at 250 degrees for about 3 hours. This leaves them kind of chewy, but you could also bake them a little longer to get them crunchy.
Oh, and you can waffle cut them for more fun...Enjoy!