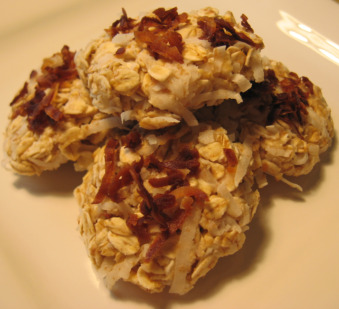 Ingredients:
3 tbsp whole wheat flour (see note below)
1/4 cup, plus 1 tablespoon applesauce, unsweetened
1/4 cup milk, low or fat free (see note above about milk substitutions)
1/2 cup shredded coconut, sweetened
1 1/2 cups rolled oats
Instructions:
Mix the first four ingredients together in a large bowl.
Slowly add the rolled oats, about a 1/2 cup at a time. The mixture may be too loose (or dry) to clump together. If that is the case, gradually add one tablespoon of applesauce at a time. Check the mixture by squeezing a small cluster in your hand. If it does not stick together, add one more tbsp of applesauce.
Scoop coconut clusters with a cookie scooper. Then, with damp hands, press into a cluster shape.
Place on a cookie sheet lined with parchment paper.
Refrigerate for at least 1 hour.
Storing & Yield: This easy homemade dog treats recipe for coconut clusters can be stored in the refrigerator for up to 2 weeks and can be frozen for up to 3 months. For more tips on dog treat and dog food storage, be sure to review our page of helpful hints. The yield is 32, 1 1/2" flat clusters.
Tips & Techniques
Wheat Flour - If your dog has a wheat allergy, you can make your own oat flour. You can do this by using a food processor. Grind approximately 1/4 cup of rolled oats to make at least 3 tablespoons.
Cookie Cutters - You can make these coconut clusters into shapes by using a dog cookie cutter. Pack the mixture tightly into your choice of cookie cutters and place them on a lined cookie sheet. Refrigerate for about 2 hours.
Sheet Pan - You will need to fit these homemade dog treats in the refrigerator, so be sure to use a sheet pan, or other flat pan with a ridge, to cool these treats.
Toasting Coconut - Decorate your coconut clusters with a light sprinkle of toasted coconut flakes. Heat your oven to 350° F. Spread a thin layer of coconut on a baking sheet and bake for 5 minutes. It may need longer, but be careful, coconut goes from white to dark brown very quickly. Just check it often after the first 5 minutes.